About Christopher (Chris) Brooks, Estate Attorney
---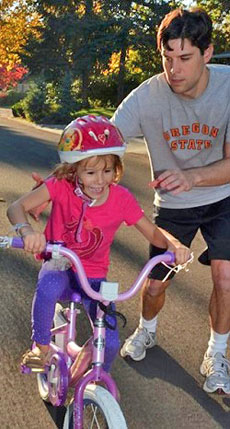 Christopher M. Brooks limits his legal practice to estate planning and administration.  As a husband and father, Chris understands the hopes, joys and fears of being a parent. Chris is dedicated to preparing unique, affordable estate plans that give his clients the peace of mind of knowing they have provided for their families.
When your family, finances, or future are at stake, you need a dependable lawyer.
Chris provides sensible and affordable legal representation with hands-on involvement from start to finish.
Chris believes in giving back to the community.  He spends several hours every week working with nonprofit organizations.   Chris is the Secretary of the Clark Foundation and a member of the board of the Oregon Sports Authority.  Chris has served on boards for a number of nonprofits over the years, including the Oregon Symphony, Legacy Emanuel Medical Center, and the University Club Foundation.  He is also a former mentor at St. Mary's Home for Boys.
Throughout his practice, Chris has been providing compassionate legal services for those who need to protect their families and assets.
Prior to starting Brooks Estate Law in 2010, Chris was an associate for respected Portland estate planner James D. McVittie from 2007-2010.
Chris began his legal career practicing business and personal injury litigation with Michael Wise & Associates, P.C.  He drafted the original version of the legal argument that reestablished the principle that a plaintiff may pursue distinct exclusive legal remedies in Venture Properties Inc. v. Parker.  Chris was a member of the President's Circle of the Oregon Trial Lawyers Association from 2005-2007.
Chris's other interests include skiing, golf, the Timbers, college basketball and football, theater, wine, and books ranging from popular fiction to philosophy.
Education 
University of California,
Hastings College of the Law
CALI Excellence for the Future Award (2001)
Juris Doctor, (2002)
Gonzaga University
Cardinal Newman Fellowship (1998)
Honors Program Bachelor of Arts in English, cum laude, (1999)
Legal Employment
2010: Principal at Brooks Estate Law, PC
2007: Associate at McVittie-Law, PC
2003: Associate at Michael Wise & Associates, PC
Bar Memberships & Associations
2011: Washington State Bar, Real Property,
Probate and Trusts Section
2007: Oregon State Bar,
Estate Planning Section
2007: Washington State Bar Association
2004: United States Court of Appeals
for the Ninth Circuit
2004: United States District Court
for the District of Oregon
2003: Multnomah Bar Association
2003: Oregon State Bar
2003: State Bar of California